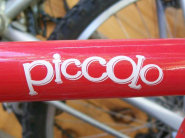 Burley Piccolo Trailer Cycle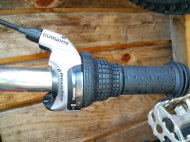 Grip Shift type gearing is an easy and intuitive introduction to changing gears.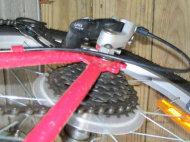 7 gear choices let your child control how fast or slow they want to pedal.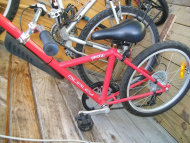 Our son loved that his bike was red! Color matters to kids, Burley got the colors right!
Want a Great Mountain Bike?
MountainBikeOfTheYear.com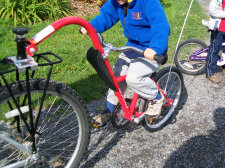 Burley Piccolo
Stable and Secure Attachment
Grip Shifters
Independent Gearing
Ride-ability
Coast-ability
The Piccolo was an easy decision for us - we are serious riders and our son is a budding cyclist, our goal was to get the safest tag-along type of cycle and the most durable. If you are a serious rider and want to share that part of your life with your children, then the Piccolo will be an easy choice for you as well.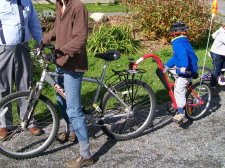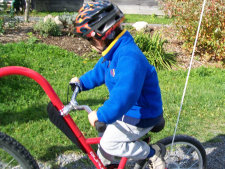 Price We bike 5 times a week and since our son loves to go on rides with us, the price of the Piccolo was easily mitigated by factoring in the safety (stability of hitch mount) and durability of the Piccolo - we knew we'd use it a great deal and that our 5 year old would abuse it great deal too. If you plan on using your trailer cycle often, the Piccolo makes sense - if think you'll use it just a few times a year, than you may be better off buying one of the less brands as the cost savings could be as high as 50 percent. Just be sure to ride slower to account for the increased wobble and bobble that results from having a bike attached at the seat.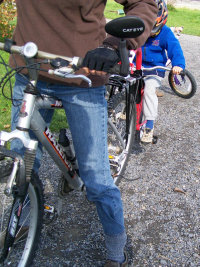 Grip Shifters; are easy to use and kid friendly - our 5 year old figured out how to change gears as soon as he heard the gears "click." Having a sense of control and something to fidget with keeps our son happier longer on our bike rides - a nice bonus.

Independent Gearing; having independent gearing on The Piccolo's solves two problems; 1, your child is not locked in your cadence, meaning they can pedal if they want to or just coast along. On a tandem, they are locked into pedaling whether they want to or not; 2, having gears lets your child adjust his cadence with a simple flick of the wrist, allowing them to lower the gears for hills and increase the gear for flats, both of which are great training for a budding cyclist.

Drawbacks besides price the major issue is the Piccolo needs to have a Moose Rack on each bike it wants to attach to. Currently our family only has one and it is on the weaker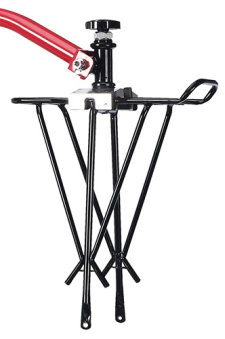 of the two cyclists bikes. Changing the rack is not two minute job, so buying a second Moose Rack is the solution. Currently, BurleyGear.com has lots of Moose Rack in stock, so we are going to buy one more. The Moose Rack is compatible with both the Piccolo and the Kazoo trailer cycles.


Price Paid:
$375
Purchased From:
Amazon.com
Burley currently does not make the Piccolo, so we had to scramble to find one - luckily Amazon had a few in stock. At $375 the Piccolo is not light on your wallet, but when you compare the ride-ability of the Piccolo versus the competition, it makes the extra few dollars well worth it. The competition starts at about $150 and goes as high as $280, but all of the competition attach at the seat-post and thus have a higher center of gravity and are not as stable or secure as the Piccolo.